A somewhat recent discussion on a few mailing lists I am subscribed to led me to think a bit more about pulp fandom, science fiction fandom, and, really, all fandom, I suppose. My view that the SF fandom that existed years ago, that produced the great fanzines as well as the great writers of later years, is slowly fading away as a newer, less individually-productive group of "fans" emerges was met with some skepticism, but I still believe it to be true, nonetheless ( I do believe, however, the opposite to be the case in regards to pulp fandom). My thoughts and readings on the nature and history of fandom (science fiction, for the most part) prompted my writing about a particular, short-lived series that is amongst my favorite titles:
Marvel Tales
.
Marvel Tales
has an interesting, and somewhat confusing history, as it is not quite certain if it was originally intended as a single series that underwent a name-change or was a compliment to an existing series, compounded by the fact that it did not survive past its fifth issue. The science fiction fan community had grown out of the correspondences between readers of professional magazines, such as
Amazing Stories
and
Astounding
, who had been contacting one another via those magazines' letters pages. With the deepening of the Great Depression in the 1930s, the fan community began publishing their own works, in part as a response to what was seen by many at the time as a "slowdown," or lack of originality and drive by many of the authors writing for the professional periodicals. Among the earlier of these was a series simply titled
Science Fiction
(with the subtitle "The Advance Guard of Future Civilization") and was produced in 1933 via mimeograph machine by Jerome Siegel and Joe Shuster, two Cleveland science fiction fans who had been avid readers of
Amazing Stories
for years; the third issue of this short-lived, five issue series featured "The Reign of the Super-Man," a short novelette (under Siegel and Shuster pseudonym "Herbert S. Fine") chronicling the evil wrought by a nigh-unstoppable
Übermensch
- a character that would eventually be remolded and reintroduced five years later as Superman, in
Actions Comics
No. 1.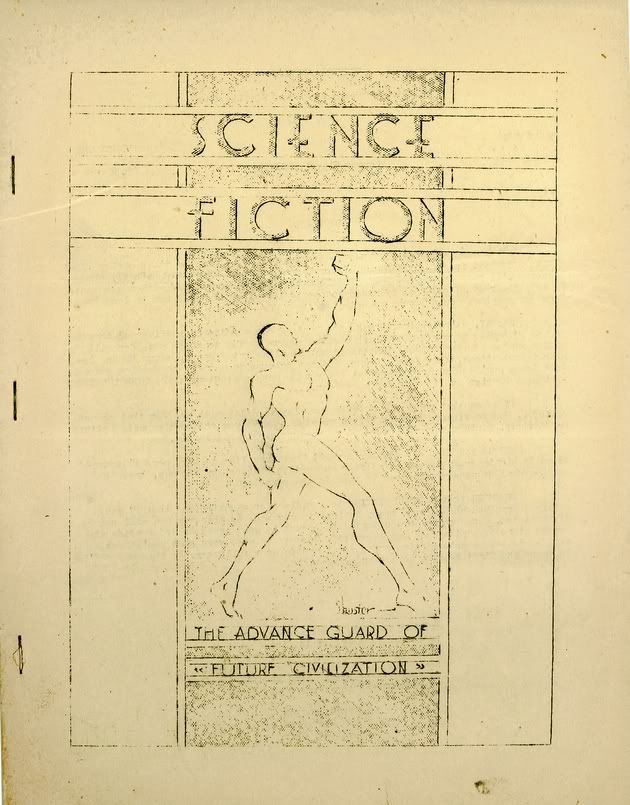 The first issue of Siegel and Shuster's Science Fiction.
Marvel Tales
was another such title, the brainchild of William L. Crawford, a science fiction follower and aspiring publisher, who had originally planned to produce a series entitled
Unusual Stories
. Of his upcoming title, Crawford wrote to other fans in a four-page "preview:"
"Science fiction should have a place in the literature of today. It does not occupy that position now, we believe, because of the restrictions placed on it by short-sighted editors and publishers. They use only tales which follow certain stereotyped forms. They avoid the "off-trail" story because it violates one or another of their editorial taboos, with the result that science fiction has been sinking into the mire of the commonplace."
With his editorial intentions made known, that his magazine would encroach upon "taboos" within the SF field, Crawford released
Unusual Stories
in, fittingly, a rather unusual manner: the premiere issue (March 1934), the first digest-sized science fiction publication, was sent to readers in two, separate halves. An entire, complete edition was never published.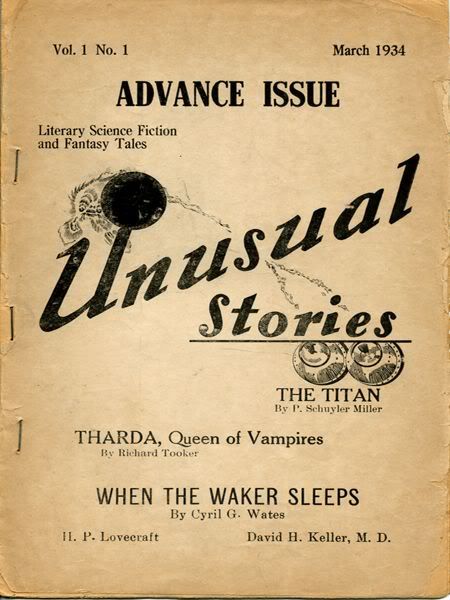 A second issue failed to appear as well; in its stead, Crawford released
Marvel Tales
No. 1 (May 1934), which contained many of the stories that the publisher had promised would appear in
Unusual Stories
.
Marvel Tales
seemed a combination of both weird-horror and SF, with its inaugural issue containing stories by writers such as Howard Phillips Lovecraft ("Celephais") and Lloyd Arthur Eshbach ("The Man with the Hour Glass"). Actually, Crawford did business with Lovecraft throughout
Marvel Tales
' existence, printing many of his stories, and even publishing the first, and only, book of Lovecraft's work to be released during the author's lifetime,
The Shadow Over Innsmouth
(1936). A second issue, dated July/August of 1934 and expanded by twenty pages (along with three variant covers) was released, followed by the sixty-eight page Winter 1934 issue, containing the first published fiction by Robert Bloch ("Lillies"). The March 1935 issue, impressively expanded to 108 pages, contained stories such as "The Doom that Came to Sarnath" (Lovecraft), the first installment of the serial "The Nebula of Death" by George Allan England, and Clifford Simak's religio-science fiction tale "The Creator."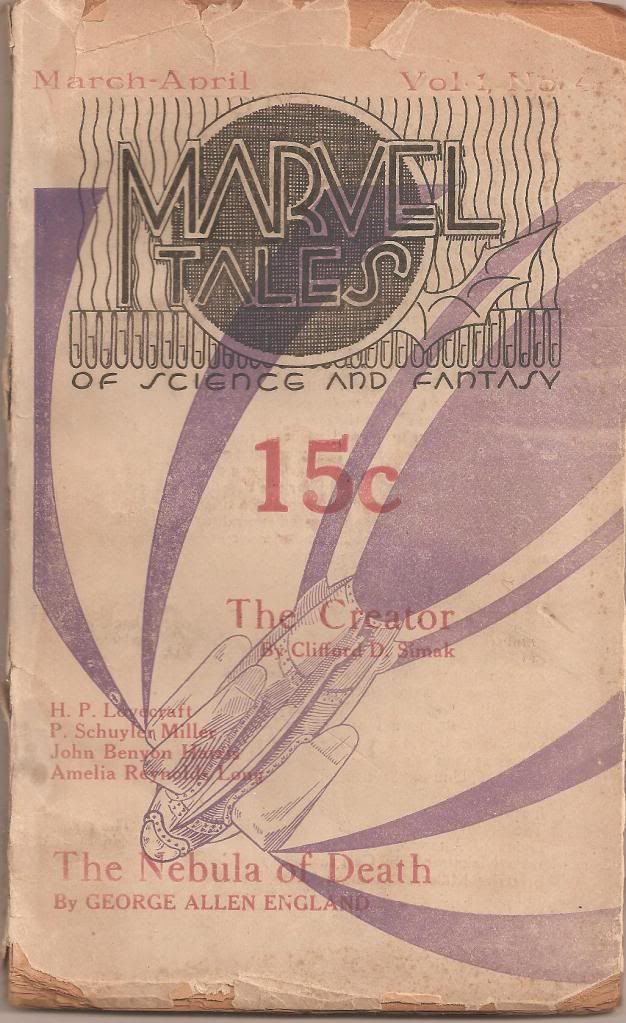 Marvel Tales Vol. 1 No. 4 - March/April 1935
Following the first few issues of
Marvel Tales
, Crawford sought to expand his reach by announcing a series of books (including the afore-mentioned
Shadow Over Innsmouth
), in addition to finally publishing a forty-eight page second issue of
Unusual Stories
(Winter 1935). The previous season (Summer 1935) saw the release of the fifth issue of
Marvel Tales
, significantly larger than its predecessors in its dimensions, and containing the second installment of "The Nebula of Death," as well as "Man from Makassar" by Carl Jacobi, among other stories. While a sixth issue did indeed make it to the proofing stage (containing yet another printing of "Innsmouth"), No. 5 was the final issue of
Marvel Tales
, a result of low sales combined with Crawford's "biting off more than he could chew" in regards to expanding his publishing domain.
Williams L. Crawford is acknowledged by many SF historians for reinvigorating the genre during a lull in its early years. True to his claim, Crawford sought to "go against the grain" as it were regarding what was being published in science fiction - he printed Simak's "The Creator," refused by other publishers due its religious nature, and he was the first to accept the serialization of P. Schuyler Miller's "The Titan," which had been rejected by professional editors in light of its descriptions of sexual relations on Mars . Two years after
Marvel Tales
had folded,
Astounding Science Fiction,
which had returned after a brief hiatus, began a new era of SF with its hiring of John W. Campbell, Jr. as editor; other changes in the science fiction magazine industry, from
Amazing Stories
to
Wonder Storie
s, in many cases, are attributed to Crawford. SF historian Michael Ashley, in his
The Time Machines - The History of Science Fiction Magazines
, credits Crawford with not only injecting much needed inertia into the genre, but also as acting as inspiration for later attempts to challenge science fiction orthodoxy, exampled by Harlan Ellison's 1967 work,
Dangerous Visions
.
Again,
Marvel Tales
is one of my favorite titles; short-lived series have always garnered my interest, and I find Simak's "The Creator" (and the issue of
Marvel Tales
that featured it) to be amongst some of my favorite works. But, it is also the fan aspect that I find most interesting about the title - that a group, which includes Siegel, Shuster, Crawford and a host of others, not only produced work that stands side-by-side with professional publications, but that they also were active in such a "back-and-forth" flow, an inter-connectivity between professionals and fans that helped shape an entire genre of literature. I do no believe that such a relationship, such a community, will carry on into future years - while many who helped shape that world are still participatory and are still "living it," such activity (again, in my mind) is rapidly disappearing, to be replaced by a generation of "fans" whose notion of active participation consists of posting in online forums the extensive nature of their Star Wars action figure collection. At the risk of making posts too long (yet again) I will place any further comments I have regarding this, appropriately enough, in the Comments section. As always, I sincerely thank you for reading, and for your time.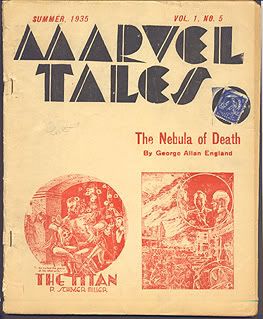 Marvel Tales Vol. 1 No. 5 - Summer 1935
Sources:
Ashley, Mike.
The Time Machines - The History of the Science Fiction Magazines from the Beginning to 1950
. Liverpool University Press: Liverpool, 2000. 81, 82.
_________ and Robert A.W. Lowndes, ed.
The Gernsback Days - A Study of Evolution of Modern Science Fiction from 1911 to 1936
. Wildside Press: Holicong, 2004.
Sanders, Joe ed.
Science Fiction Fandom
. Greenwood Press: Westport, 1994.
Tymn, Marshall B. and Mike Ashley, ed.
Science Fiction, Fantasy, and Weird Fiction Magazines.
Greenwood Press: Westport, 1985. 401-404.
Images of
Science Fiction
and
Unusual Stories
( as well as
Marvel Tales
No. 5) are courtesy of The University of Florida Special Studies and Area Collections and the Galactic Central pulp magazine cover archives, respectively.
Issues of
Science Fiction
, including "Reign of the Super-Man," can be read at The University of Florida's Special Studies and Area Collections webpage, http://ufdc.ufl.edu/UF00077088/00001/1j.
And many thanks to Robert Lichtman for pointing out a few errors on my part regarding early fanzines that have since been rectified.