PulpFest 2011 was this past weekend, and while I was unable to attend this time around, I am glad to hear all of the positive reports that have been written the last few days regarding it. It sounds that sales of pulps were good, panels were well-attended, and there were more people attending than in years' prior - all good signs for pulp fandom.
I wanted to post something this time regarding not pulps directly, but rather early cinema. I had seen the 1924, Douglas Fairbanks classic
The Thief of Bagdad
years earlier, and despite a good deal of the stereotypes and political incorrectness that appears, I still recognized it as an important part of Hollywood, and overall cinematic, history. However, it was only recently that I realized the film's connection to the pulps.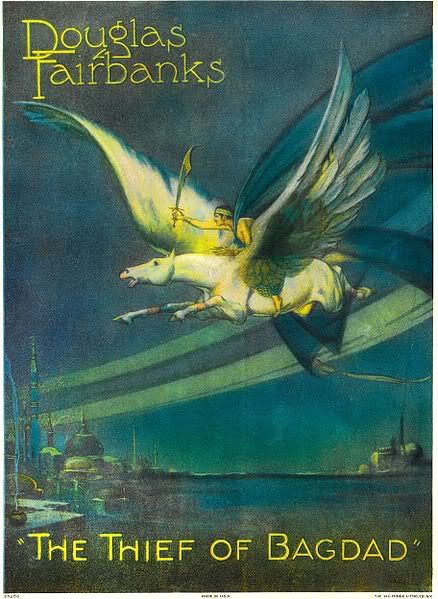 The film's screenplay was written by Alexander Nicholayevitch Romanoff (12 May, 1881 - 12 May, 1945), better known as Achmed Abdullah, a pulp writer who is responsible for dozens upon dozens of stories, voluminous tales that (most often) took place in the "mystic" Orient (generically encompassing anywhere between India, to China to miscellaneous Oceania locales). Appearing in many of the most popular of twentieth century pulp titles, Abdullah's tales were a reflection of his own life, sensationalized accounts inspired by his travels throughout both the Orient and the Occident, and featured glimpses into the languages, religions, customs and cultures he had encountered on those journeys. In addition to his pulp stories, Abdullah penned many novels and books, as well as screenplays for other productions, such as
Chang - A Drama of the Wilderness
(1927), and the play
The Honorable Mr. Wong
, which was eventually remade into a film starring the legendary Edward G. Robinson (as a Chinese tong-man in "yellow-face"), and retitled
The Hatchet-Man
(1932).
Of special note in this film is also one of the earlier screen appearances of Hollywood legend Anna May Wong, one of my favorite actresses and whose biography,
Anna May Wong - From Laundryman's Daughter to Hollywood Legend
by Graham Russell Hodges, I can not recommend highly enough as providing interesting insight into both her life, as well as the history of early Hollywood and Sino-American relations.
Video courtesy of The Internet Archives - http://www.archive.org