It has been a number of days since I returned from Columbus, Ohio and from Pulpfest 2013, my second Pulpfest, so it is about time I wrote of my experience this time around. There were some familiar faces, many new ones, and overall it was a great experience and a great convention to attend for anyone interested in pulps and early science fiction – most of you reading this already know that, but I am hoping to spread that information to others, in ways I will touch upon later. Unfortunately, I forgot my camera this time around, so I have no photographs taken personally – however, shortly before leaving I did pick up a cheap, disposable camera, and will post a few pictures I took of Columbus.
Unlike last year, I actually got some sleep the night before heading out; also unlike the previous year, I was able to arrive on Thursday. I flew out of Richmond around 6:30 A.M., and after a (very) brief layover in D.C., I arrived in Columbus a few minutes shy of 10. I was determined to explore more of the city this time around, and I set about that task shortly after settling in, as anything related to the convention was still a few hours away.
Columbus reminds me of Richmond in a number of ways; a city with historic districts and modern skyscrapers side-by-side, with a river bisecting it, although the Scioto is not as wide as the James, so one can traverse from one side to the other in a minute or so. Like Richmond, the government buildings are impressive for their decorative and aesthetic qualities, many with fountains and sitting areas about them – quite different than the drab, personality-lacking monoliths that dot many other capitol cities. Judging from the direction I was facing, thanks to the hotel's orientation, what I would call the northern bank of the Scioto is lined with benches, swing sets, viewing platforms, and sidewalks, while the southern bank (where I spent a good amount of time writing, and thinking) is peppered with stairs and amphitheatre seats, in an area I can only assume is also used for concerts or other outdoor functions from time to time.
My meanderings about town (which were at least 2 hours each day) were a great deal more pleasant this time around, due to the fact that it rained during much of the previous year's convention; only one, short storm peppered the city with rain on Saturday morning, so I was able to get out and about every day. I was able to pick up my obligatory iced green tea from the nearby Arena Starbucks (since before Graduate School, I've found that I do some of my best writing under its influence – not Starbucks in particular, but rather iced green tea in general – and who am I to argue with tradition?), and explore the city in greater detail than last year. Columbus, as nice a city as it is, however, was not the reason for my sojourn west; that, rather, was Pulpfest.
Pulpfest 2013 – July 25-28, 2013 – Columbus, Ohio
Last year, I missed the opening Pulpfest ceremonies because I fell asleep shortly after arriving in Columbus; this year, I unfortunately lost track of time during my wanderings through the city, and missed Ed Hulse's talk at Ohio State University regarding the pulp heroes. I did (after registration) however, make it to Rick Lai's excellent panel regarding the literary inheritors of Fu Manchu's legacy, "The Pulp Descendents of Fu Manchu;" one thing I learned last year was to bring a notepad to every panel, as I would hear about authors and titles about which I knew very little, and would want to take notes concerning. Rick Lai's presentation proved to be no different, and I came away with the names of several authors whose works I intend to track down in the near future. Ed Hulse's program, "Hollywood and the Hero Pulps" and beginning immediately after Rick Lai's, was equally as interesting – I was not aware of the number of serials, particularly those of the silent era, that were adaptations, or at the very least loose interpretations of, pulp narratives. I've always enjoyed serials, the hero series in particular – when I was younger, I had VHS tapes of The Adventures of Captain Marvel, Captain America, Batman, and others, which played a large role in my interest in the history of comics that I have held since I was 10 or so; over the course of the last few years, a lot of those VHS's have been upgraded to DVD copies, when possible. I sat in on the first two episodes of The Spider's Web, a 1938, fifteen-part serial based on the pulp-hero The Spider; the entirety of the serial was shown, in blocks of several episodes every night, over the course of the convention. By that point, I had been awake for about 20 or so hours, so I headed up to my room for the evening. I read through the articles in this year's edition of The Pulpster, the Pulpfest program guide - this year, I had the honor to have an excerpt, relating to the dime novels and the yellow peril, from my first book, Anti-Foreign Imagery in American Pulps and Comic Books, 1920-1960, published in The Pulpster alongside a great selection of expertly written and researched articles that makes The Pulpster a collectible, in and of itself. After reading a bit, I decided to turn in for the night.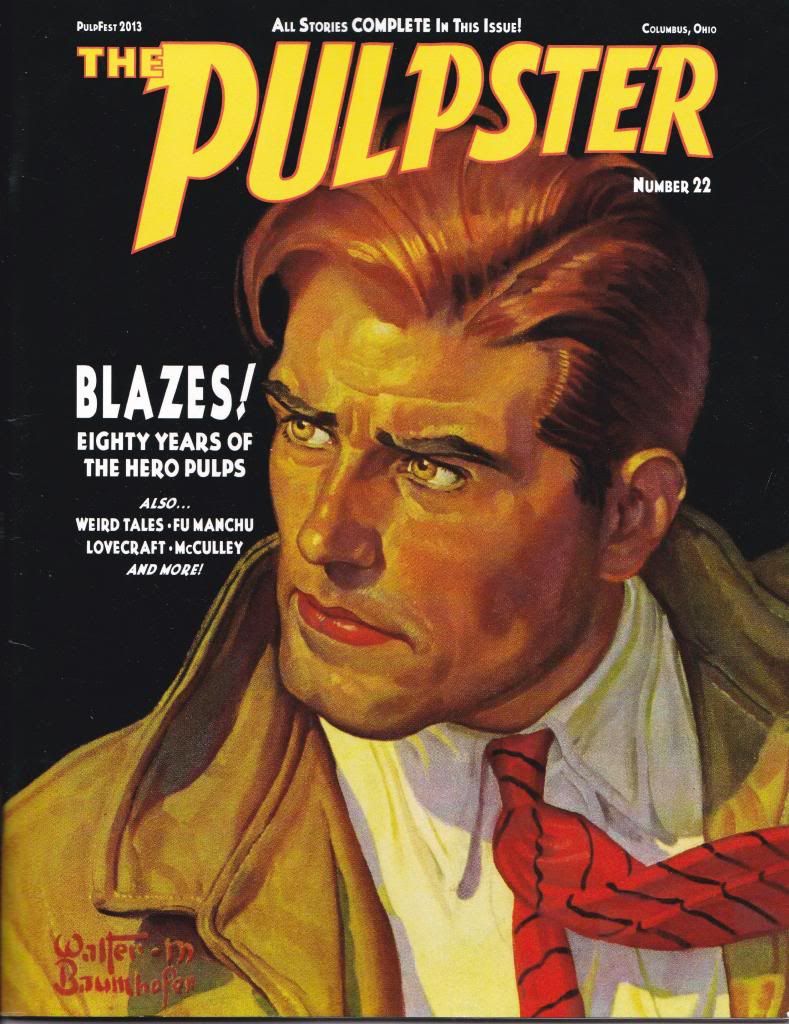 Pulpster 2013
For some reason, every morning of the Pulpfest weekend, I woke up at 4:04 A.M. – I have no idea why, but it started Friday morning. After procuring breakfast from the convention center's Chicken and Eggs restaurant, I headed over to the Dealer's Room, which had opened for business at 9 that morning. Like last year, I did not come with a large want-list of titles – I am not sure I will ever be that level of collector, as, for now at least, I'm still looking for particular stories or particular authors, as opposed to entire runs of a title; that level of activity, I still reserve for comic books, at the moment. For about a year and a half now, I have been trying to find all of the installments of a translation of Auguste Villiers de l'Isle-Adam's 1886 early speculative-fiction story "The Future Eve," which was serialized in
Argosy All-Story Weekly
beginning December 18, 1926 – I have been unable to find that first issue, which surprises me because it is not a particularly rare or sought-after item, other than by me, of course; nonetheless, it alluded me this year as it did the last. I was also looking for bound volumes of the early Munsey titles, and a few other miscellaneous things, including some serials on DVD as I remember them being available last year. I am only missing about two issues of Marvel Comics' pulp magazine series,
Marvel Science Stories
(also known as
Marvel Tales
,
Marvel Stories
, and
Marvel Science Fiction
over the course of its run), so I was on the lookout for those two issues, as well.
Wandering about, I came across Ed Hulse's table, and picked up a few back issues of Blood'n'Thunder I was missing, and was able to catch up a bit with Ed – that is one of the things I am learning about Pulpfest; that I, like many others, see it as, among other things, a means through which I can catch up with friends who otherwise I would not be able to converse with, outside of email correspondences and the like. After leaving the Dealer's Room, I walked about the city a bit more; in my meanderings, I came across a deli nearby, Danny's Deli I believe it was, which was really quite good – after my meal, I returned to the Hyatt for a new slew of panels. First, actually was not a panel, but rather the opening ceremonies for Pulpfest 2013, followed by "The Mad Goblin, Escape from Loki, and His Apocalyptic Life," moderated by Art Sippo, with panelists Christopher Paul Carey, Win Scott Eckert, Rick Lai, and John Allen Small, which discussed the Doc Savage-related works of Philip José Farmer. Pulpfest 2012 had introduced me to the works of Farmer, through a few of the FarmerCon VII panels held that year, piquing my interest to the point that I decided to purchase several of his books in the Dealer's Room before leaving. Having finished those works, I wanted to sit in on more panels to learn further about Farmer, and I was not disappointed – after I finish a few other things in my reading queue, I intend to pick up more of his works, particularly his Doc Savage-related tomes. I understand that, to some degree, FarmerCon panels are for those who are already interested in his narratives, but if they consider, as another aspect of their mission, to attract new readers to the works of their namesake, I'm proof that they have certainly succeeded, in that respect. "Doc Savage and the Pulp Heroes of 1933" followed the FarmerCon panel; alongside moderator Ed Hulse, panelists Nick Carr, Don Hutchison, Will Murray, and Garyn Roberts discussed the pulp characters who received their own stand-alone titles, following the introduction of The Shadow in 1931, with a relative "boom" in the number of similarly-themed magazines appearing two years later. I haven't delved into the hero pulps as much as I should have by now, so it was good to get a bit more information regarding the titles, particularly from Nick Carr, who told of his having to hide pulps from his parents when he was a youth, during the heyday of the pulp heroes. Owing to the fact that I have not taken the time yet to look into the history surrounding pulp art, I decided to sit in on David Saunders' panel concerning "Walter Baumhofer: King of the Pulps," and Baumhofer's extensive output in the realm of pulp hero artwork. I had some things to take care of, work-related, that night, so I headed back to the room earlier than I normally would have.
Saturday began at 4:04 AM, of course; not being able to get back to sleep, I got some reading done, and a little after 10 or so, headed down to the Dealer's Room again. I was fortunate enough to speak with Ed, along with Walker Martin and Lohr McKinstry, at his table; as was the case last year, Walker inquired about Argonotes, and once again, in a replay of last year, I had to admit I had not been able to devote a great deal of time to the site – with various writing assignments, both concluded and recently begun, this year, Argonotes has suffered, in the form of updates – or lack thereof. This fact has led me to thinking that this may become more of a personal blog, then one dedicated to my pulp-related work because, honestly, if I am working on something related to the pulps, it is more than likely something that will be going into print fairly soon. Another factor is, being a relative newcomer, I do in fact come across many things that I believe would make for excellent articles, only to find out upon further research that the topic in question has already been addressed, definitively, in pulp fandom's past by writers far more knowledgeable than I. I will continue to ponder what Argonotes should become – but that is something to be decided at another point.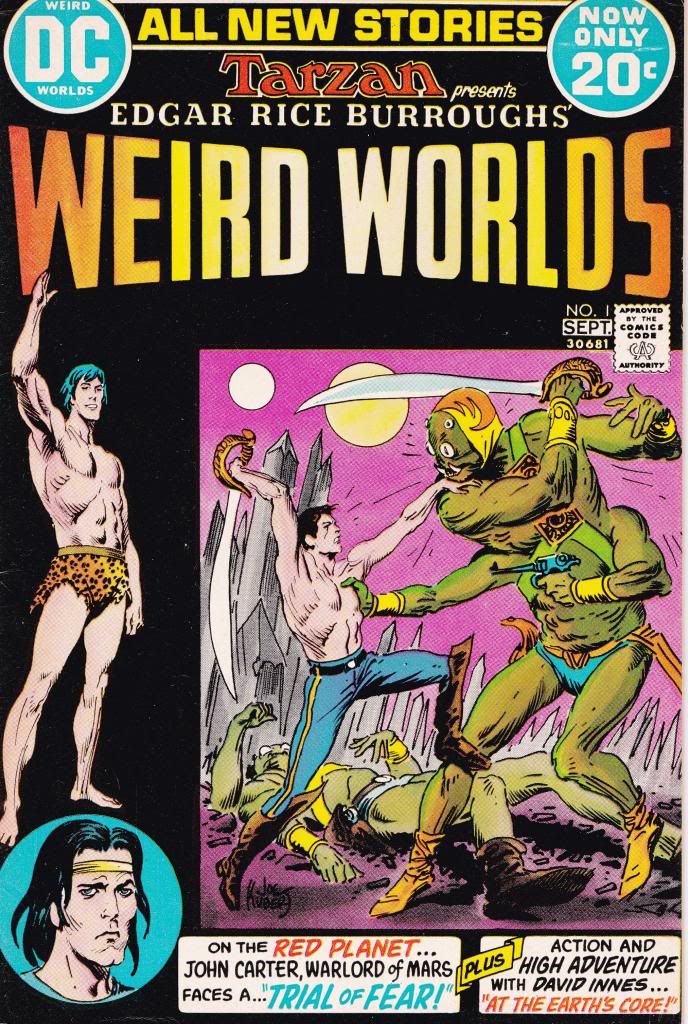 Weird Worlds No. 1
Speaking with this trio, as was the case last year, is always great – not only for the friendliness of the conversations, but also for the wealth of information a newcomer such as myself can glean, on everything from a chronology of titles to a brief history of Pulpcons and Pulpfests past. After a few moments of speaking with Ed, Walker, and Lohr, I was about to leave to find some lunch when I happened to run across Matt Moring, my editor at Altus Press on the recently-published
The Complete Adventures of Hazard & Partridge
, for which I wrote the Introduction. Finally meeting Matt was a real pleasure, after nearly a year of correspondences related to this proposed collection of Robert Pearsall's works. Thinking I may be interested in having it, Matt gave me the first proof of the book, the copy he used to track down any final errors before the work went into final publication; a really great gift, as I thoroughly enjoyed researching and writing the Introduction, a project that allowed for an interesting amalgamation of author biography and modern Chinese history. I talked with Matt a bit, picked up a complete run of the 1970s DC Comics series
Weird Worlds
, which was an anthology that focused on adaptations of Edgar Rice Burroughs' "John Carter of Mars" and "Pellucidar" stories, before heading out to find some food and spend some time along an area of the riverside walk I had found to be rather serene and quiet, before attending the 2013 Munsey Award Presentation, during which Garyn Roberts was rightly recognized for all of his many and voluminous contributions to pulp historiography and research.
Shortly after the end of Pulpfest 2012, Ed asked if I would be interested in being on a panel regarding the yellow peril the following year, in recognition of the centennial anniversary of the first appearance in print of "the yellow peril, incarnate in one man – Dr. Fu Manchu." Having written about the yellow peril in graduate school, for my book, and in later efforts, it seemed like a great fit, and I was looking forward to it. As the panel, "Fu Manchu and the Yellow Peril Pulps," approached, I will be honest and say I was nervous – I always have been, when trying to get a bunch of information out quickly and succinctly. I tried, however, to answer the questions put before me as clearly as I could, so I am hoping that my first panel turned out well in the mind of the audience, and that I was able to shed some light on the world in which the yellow peril first appeared. If not – well, just email me about it, as I believe I can write ten times better than I can speak, honestly. I was up there with giants in their respective areas, and it was an honor on my part to be amongst them - Will Murray, Ed Hulse, Win Scott Eckert, William Patrick Maynard and Gene Christie; the discussion went from Chinese history int he 19th century, to Fu Manchu in the 1930s, to Marvel Comics super hero Shang-Chi, Master of Kung-Fu in the 1970s, and beyond, to make, in my opinion for a well-rounded and informative hour of discussion. I was, and am, extremely thankful for the praise I received from a number of individuals, both immediately after the panel, and throughout the convention, regarding my first book – it means a great deal to me that readers who know a great deal more about the genre than I do, or possibly ever will, found some amount of value in it, and it inspires me to keep working.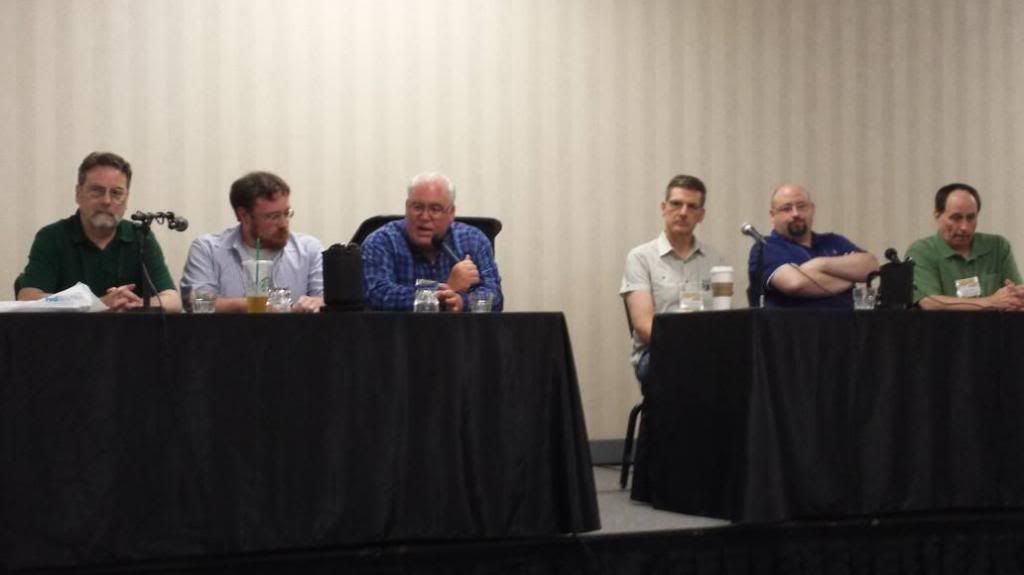 "Fu Manchu and the Yellow Peril Pulps" Panel - From right to left: Will Murray, Nathan Vernon Madison, Ed Hulse, Win Scott Eckert, William Patrick Maynard, Gene Christie
After Saturday's Fu Manchu panel, a finely-decorated (and quite tasty) Doc Savage/Pulpfest 2013 cake was brought out, per a tradition that goes back awhile if I understand things correctly. It simply would not have been right to not partake, so partake I did, and enjoyed a bit of cake during Chris Kalb's informative and entertaining panel, "Hero Pulp Premiums and Promotions." After the premiums panel, I realized I hadn't eaten a lot that day (actually, my earlier quest to find food was met largely with failure, as it seems very few restaurants in Columbus actually stay open past 3 in the afternoon), so I ordered a meal at the hotel restaurant, Big Bar On 2 (quesadillas, to be precise), before heading to the Saturday night auction. I had sat in on last year's auction, really out of curiosity more than anything else. This time around, I figured if anything came up in my price range that I wanted, I might try a bid – why not? Well, shortly after I sat down, a bound volume of
Argosy
, from 1888 was offered for bidding; I believe only one other person bid, and mine was the highest, at $35, which, even in my limited experience, is a pretty good deal for one of these volumes, particularly one from the
Argosy
's pre-pulp days. It was a small price, in comparison to some of the other things being offered, but I was happy – I got something I actually wanted, and for a price I could easily afford: you can't beat that for a first-time auction. After I collected my item (which I paid for immediately after winning, which I was not sure was proper procedure, but that's what someone told me I should do, so I did), I spoke outside with dealer Richard Hall for a good while, before calling it a night, at about 12:30 or so. I still wasn't quite tired, so I watched something that I knew I'd enjoy, and was somewhat appropriate in that it seemed to carry the theme of the day –
Mystery Science Theater 3000
, episode 23, of season 3:
The Castle of Dr. Fu-Manchu
, which was not one of the better Sax Rohmer adaptations.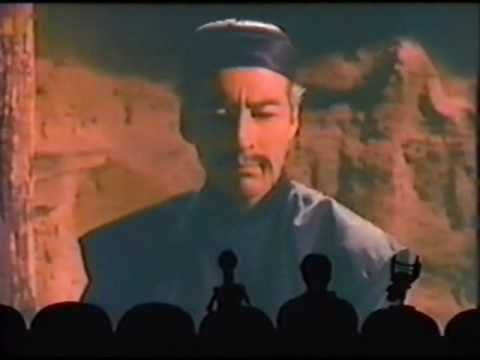 Christopher Lee as Dr. Fu Manchu, courtesy of MST3K
Sunday was a rather short day; I woke up fairly early, as I expected to at this point, and set about packing things up and getting ready to leave Columbus. I made a final trip to the Dealer's Room and picked up a few things, mostly serials on DVD and a few issues of
Argosy
featuring Peter the Brazen that I was missing. I made my rounds, saying my goodbyes and wishing safe trips for Ed, Walker, and others, before grabbing a last bite to eat (at Subway, where I ate my last meal before leaving in 2012, strangely enough), and heading to the airport. After a short layover in Cleveland, I was back in Richmond before nightfall.
Last year, I returned from Pulpfest 2012 to record my impressions of it from the viewpoint of a first-time attendee. This is my second Pulpfest, but I still consider myself a "newbie," so my impressions still reflect that to some degree. I still consider Pulpfest to be, first and foremost, a gathering of like-minded friends, sharing a passion for the same literary form, than any of the trade shows and media circuses that pass for "conventions," these days. Having the chance to see and greet folks I had met last year, combined with the new faces, Garyn Roberts and Patrck Maynard, Richard Hall and Michelle Nolan, and others I was fortunate enough to converse with this time around, made for an atmosphere wherein I felt a bit more welcomed. That is not to say I had any adverse encounters last year, but rather, it had that small feeling of "coming back" somewhere, as opposed to "going somewhere," if that makes sense.
One thing I did notice this time around was a few (not a great deal, but a few) attendees, mostly in the Dealer's Room, that looked to be about my age, or thereabouts. Could it be that more individuals of my generation are becoming interested in the pulps? Perhaps, although I think the more likely answer is that they had attended Ed's university lecture, and had wandered over to Pulpfest out of curiosity, more than anything else. Still, I think that is promising, in regards to newer fans showing at least some small interest; however, as I wrote in an article in Blood'n'Thunder's Fall 2012 issue, "new blood" can really only be considered as such if there is a valid interest in reading these magazines, and learning about their history and impact on popular culture. I still have some doubts that any such, large-scale influx is possible for a number of reasons (again, which I have enumerated before), but, I could always be wrong.
That being said however, it does not make a great deal of sense for me to ruminate on such things, and then do nothing to try and foster such interests among those of my generation. To that end, I will be giving a presentation at a first-year convention here in Richmond, RVA Con, at the end of September; this panel will be concerned with the history of science fiction, and, of course, the importance of pulps in that history will be stressed. I am, at the moment, thinking of something akin to presentations I gave in graduate school, with notes and, more importantly, a PowerPoint as a guide along the way, complete with images of the magazines I will be discussing. I am excited about this, as I know that I will be presenting a great deal of pulp and SF history, for which this is the first time, for possibly the majority of the audience, they will be hearing names such as Astounding, Gernsback, Campbell, Weird Tales, Palmer, Argosy, and others. In that sense, it carries some small amount of responsibility to get it right, on my part, but it is something I welcome.
I would like to close this report with my sincerest thanks, to all members of the Pulpfest committee, for putting on a fantastic convention, and to all of those I have met, and will continue to meet, that have provided a warm reception to this newcomer. As I did roughly a year ago, I have already begun setting aside small funds in anticipation for a return trip, a year from now.