Some time ago, I came across a number of issues of Frank Munsey's
The Argosy
, dated between 1892 and 1893; I managed to make a few top-down scans of several issues recently, having wanted to post them online for quite some time - I have noticed immediately-pre-pulp copies of
The Argosy
, and indirectly images related to them, to be somewhat elusive.
I apologize for the crookedness on the part of the scans - attempting to arrange them for proper scanning, while keeping their delicate nature in mind, was something of a challenge.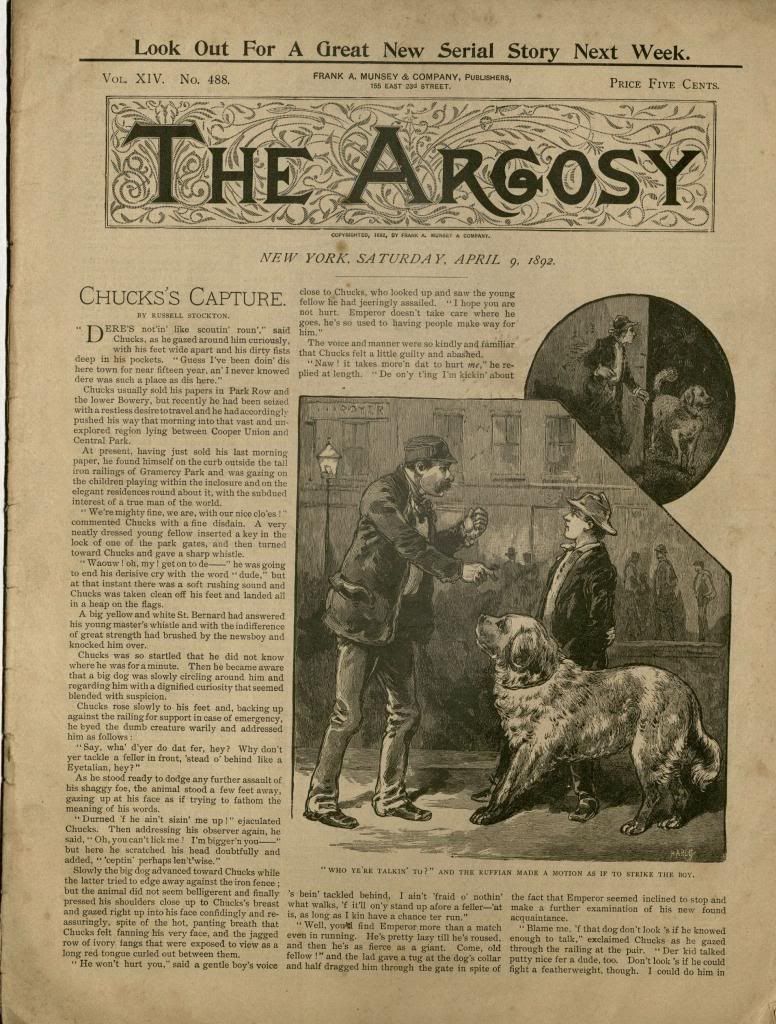 Beginning publication in December of 1882,
The Golden Argosy
was Frank Munsey's first publication, which he produced with, literally, only a Horatio Alger manuscript and $40 to his name, upon his arrival in New York City several months prior. Munsey often modified both periodicals and the newspapers he later acquired, in attempts to better understand what sold, and what did not. "Golden" was dropped from the masthead in 1888, but the title was still, for the most part, a juvenile weekly at this point, carrying Horatio Alger, Jr. and Oliver Optic narratives. The dimensions had changed slightly since the title's earlier volumes (down to 10 1/2 x 13, from 11 x 14 1/2), although the page count remained relatively unchanged, (around a dozen pages, or thereabouts) as did its medium of newsprint.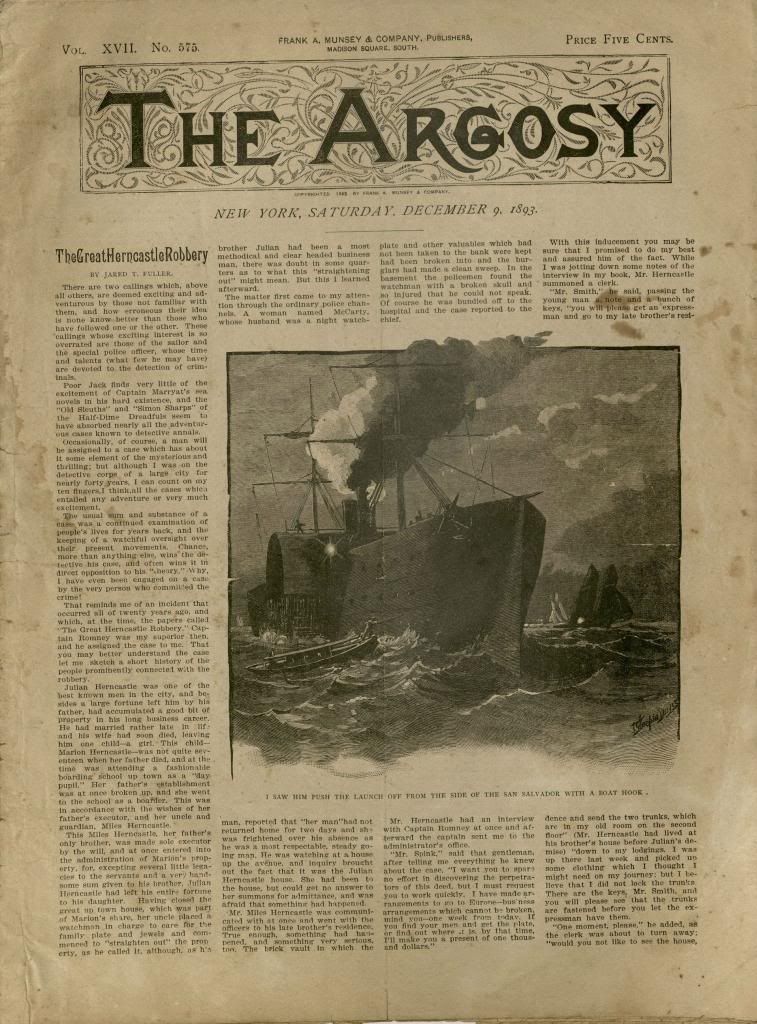 By the time these particular issues were published, The Argosy was the sister publication to Munsey's; Munsey's Illustrated Weekly, the publisher's second title, had only existed for a brief time, namely as an organ supporting the Republican presidential candidate, James G. Blaine, in 1884, and folding soon after Blaine's loss to Grover Cleveland. Within a few years, Munsey would rebel against the American News Company's distribution monopoly, and in the process, make himself a millionaire.
In 1896, the juvenile story paper format was not selling, at least to Munsey's high-standard satisfaction, and he retooled
The Argosy
into the first mass-produced pulpwood magazine, unintentionally creating an entire genre, one of the most successful forms of mass literature in history.


As mentioned some time ago, it is my intention to write a larger, more comprehensive biography of Frank Munsey than has ever appeared prior; I am happy to say I am currently planning several research trips to several states in order to gather never-before-used information and resources, and more on that will be posted here, as it develops. It is my goal to have it completed before (hopefully in print, if that's not too overly-ambitious) the end of 2014, the 160th anniversary of Frank Munsey's birth, in 1854. I'll just have to see how it goes.