Pulpfest 2012, August 9 – August 12, 2012 – Columbus, Ohio
I had been looking forward to Pulpfest for quite some time, and had made my reservations, both for the hotel and air travel, well in advance. Having heard of the voluminous amounts of pulp magazines that were (likely) to be found in the Dealer's Room, I began saving my discretionary money in advance.
A night out with friends th

e previous evening

prevented me from getting any last-minute preparations accomplished that Wednesday night, so I caught my 7:00 AM flight out of Richmond Thursday morning on no sleep, powered only by green tea. Following a short layover in Newark, I reached Columbus around 2 or so in the afternoon, making my way to the Hyatt Regency. I had attended several other conventions that were housed in the chain's Regency line of hotels, and all were very impressive, and the Hyatt Regency Columbus was no exception. Very nicely laid out and spacious, with convenient access to a variety of eateries, the hotel's only major flaw, in my mind, was that the information they had regarding the location of particular rooms could be improved upon, just a tad.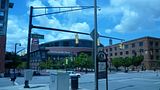 The Arena, just a block or two down from the hotel. For some reason, the thumbnails are ridiculously blurry; the actual, linked images are of far superior quality.
As early registration was still a few hours away, I decided to look about the general area surrounding the Hyatt and conference center for a bit. The Arena was a block or two down the main drag, and housed a good number of restaurants and other attractions; the North Market, a large eatery/bazaar two blocks west of the hotel was an attraction, in and of itself.
The Atrium on the second floor, just below the Dealer's Room.
After wandering around a bit, I returned to the hotel, and, due to a lack of rest the previous two days, fell asleep for the next few hours. Unfortunately, I missed both a panel hosted by Ed Hulse and Garyn Roberts concerning Campbell's tenure at Astounding Stories, as well my chance to register. I awoke 15 minutes before early registration ended, but I could not find where registration actually was (the hotel staff insisted that it was on the second floor), so I went back to the room after exploring the hotel and conference center a bit more, and called it a night after reading for a little while.
The next morning (Friday) I woke up in time to get to registration by 10; it was on the third floor, in the Dealer's Room. While my inability to find it the night prior may strike some as odd (or idiotic), it does not surprise me much. Outside of MarsCon in Roanoke, Virginia, Pulpfest is the smallest convention – in as far as the number of attendees – that I have ever been to; every other convention in my recollection had a separate registration area, away from most of the panels and Dealer Room(s) and whatnot, so that is what I was looking for. As sad as it may sound, it never occurred to me to look in the Dealer's Room for the registration table. Regardless, I acquired my registration badge and packet (there was someone else's badge in my bag as well – a Gilbert someone or another; I handed that over to the young woman at the table, as I figured Gilbert would appreciate that). With that in hand, I began looking about the Dealer's Room; the ballroom chosen for the spot was quite spacious and provided ample room for moving about, unlike some shows I have been to, where being packed in like sardines seems the norm. There was a large variety of items to be had: pulp magazines, of course, in addition to rare and antique books, classic (and obscure) film and serial dvds, some comic books here and there, and collections of various fanzines, at differing tables.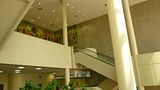 Stairs from the second floor, to the third, which housed the Dealer's Room.
Still being rather new to the entire "pulp scene," I did not have a very long want-list; rather, I had an idea of the type of things I was looking for, and out of those a few issues in particular. I was hoping to find anything written by Frank Munsey that I wasn't aware of previously, as well as any collected printings of his stories that had originally appeared In The Golden Argosy's early years. I also hoped to find any issues of Munsey's containing editorials by the publisher regarding Theodore Roosevelt's independent candidacy for President, of which Munsey was an ardent supporter. Per my interest in Chinese history and its portrayals in the pulps, I was on the look-out for any "yellow peril" titles I happen to come across. As far as particular authors, I only had a few that I kept an eye out for;

a few alumnus of Weird Tales and Astounding, and, in particular, a five part serialization that ran in Argosy All-Story Weekly, beginning in December of 1926 – Auguste Villiers de L'Isle-Adam's

The Future Eve, an 1886 speculative fiction tale that coined, what later became, the word "android." I have an original, complete (translated from the original French) edition, but was hoping to find this later serialization; the cover of the issue which carried the first installment is is a fantastic piece of pulp/SF art history, in and of itself. I was also hoping to complete my collection of Marvel Science Stories/Tales/Stories – I have the first 4 issues, but would (like any good collector) prefer to have the whole set. I was also on the look out for several issues and stories from various titles that I had read only on microfilm recently during research, but enjoyed to the extent that I wanted to have the actual issues, in hand. So, my list was modest; a great deal less ambitious and comprehensive than most of my fellow attendees, to be sure.
I picked up a few things that Friday

– some issues of Argosy starring Wort's Peter the Brazen, and a Fantastic Adventures containing "The Masters of Sleep" by L. Ron Hubbard. As with comic books, I like picking up titles that look interesting, but that I have never heard of or ones I know did not last very long, so I picked up the first issue (March, 1941) of Cosmic Stories. Coming full circle to the front of the Dealer's Room, I came across the Murania Press table; I saw that Ed Hulse, pulp historian and editor of Blood'n'Thunder was there, and decided to try and speak with him, having only shared email correspondences, thus far. At his table, I also came across an earlier issue of the fanzine Pulpdom (#5, I believe), one that was almost entirely focused on Frank Munsey; I snatched that up. Ed saw my name tag, and reached out his hand in greeting; I quickly found out that the two gentlemen he was conversing with were also members of the PulpMags mailing list; Walker Martin and Lohr McKinstry. It was great to finally meet those with whom I have spoken with only through email, and had heard a great deal about (one thing I quickly learned about Pulpfest – it is, if nothing else, a place to hear great stories of pulp fandom's past). All three were great to speak with, and I enjoyed the short conversation immensely. Walker asked me what was going on with Argonotes, and I had to admit, for lack of a better excuse, I simply had not had the time, between work and several writing projects, to devote myself as much as I would like to it; I am glad he mentioned it, however, because it inspired me to get back on it, and that is exactly what I did following our conversation – after a small snack break at an eatery in the convention center, during which I poured over the contents of The Pulpster, I went over to the Starbucks adjacent to the Arena and entered my first Argonotes post in almost a year. It was little more than an update, an apology, and a dedication to return to the blog, but it still felt pretty good to be working on it again.
Friday evening there were two panels that I was determined to attend (I got back from Starbucks too late to catch but the very end of the official welcome panel). At 7, FarmerCon VII hosted Lord Tyger, Time's Last Gift, and the Gods of Opar. It examined the works of science fiction author Philip Jos
é
Farmer, a writer who, I am sad to say, I had no prior knowledge of before Pulpfest. The panel was extremely interesting, not only because it provided background information concerning the author's works that piqued my interest enough to purchase a few of his works in the Dealer's Room later; the panelists, Win Scott Eckert and Christopher Paul Carey (with moderator Paul Spiteri) spoke at length regarding legacy works (based on Farmer's input and notes regarding unfinished stories), and personal stories about the man himself. Eckert, in my opinion, gave more information about the worlds and timelines Farmer created, whereas Carey introduced any newcomers to the man himself, his family and his habits. Together, the two presented a fantastic panel that, as I said earlier, only raised my interest in Farmer's work.
From panel's end to 9:00 PM, I grabbed the first real meal I had eaten that day at the lounge/bar on the hotel's second floor. Over my "Tots Ranchero" and Jagermeister/Coca-Cola, I took some notes on the previous panel, and my thoughts on Pulpfest thus far, before heading back for the next presentation. At 9, Barsoom and Beyond, the focus of which was the evolution of Mars' depiction in pulp and popular literature, beginning with Edgar Rice Burroughs, was expertly moderated by Ed Hulse, and featured an impressive roster of panelists. Henry Franke, current treasurer of the Burroughs Bibliophiles, was the resident Burroughs expert, and Garyn Roberts was able to share Ray Bradbury's personal insights into Mars and Burroughs, thanks to the personal friendship he held with the author for many years; novelist and pulp authority Will Murray spoke on the stories of Otis Adelbert Kline, and Steve Haffner, who has edited a number of recent reprints of her works, described Mars as it appears in the stories of SF author Leigh Brackett.
The panel, "Barsoom and Beyond."
I have been a longtime fan (at least, by my reckoning of years) of Burroughs and Bradbury, and I had become familiar with Leigh Brackett's stories while working on my thesis. However, Kline's writings I was only vaguely familiar with; so, I was able to gather new insight into authors I already admired, while also gaining an introduction to another whose place in pulp and SF history I now understand a great deal better. Roberts' insight into Bradbury was particularly helpful, thanks to his closeness to the author; it's a personal insight that others could not have provided, and it was a valuable contribution to the overall discussion.
That is something that I will make note of here, something that I noticed about Pulpfest, when compared to other conventions. With the exception of some smaller shows (I mention MarsCon again), I hate to admit that in the case of many conventions I have attended, the panelists were not a great deal more knowledgeable about their subject matter than a majority of the attendees. I come to Pulpfest after about a decade and a half (am I actually old enough to have done anything for over 15 years? Good Lord) of attending comic, anime, and SF conventions. I have attended comic convention panels where the speakers were constantly getting dates, facts, creators and characters confused, or outright wrong; I have attended anime conventions where the panelists conducting presentations regarding Japanese or Chinese live-action cinema were, to put it nicely, barely literate concerning the history of the mediums. As fandoms have come to accept more and more individuals who are not necessarily fans in the traditional sense, but rather gravitate to topics of popular culture in order to form some sort of identity for themselves, such instances are becoming more and more common. Very few, if any at all, (younger) attendees of a modern SF convention have any idea who Hugo Gernsback or John W. Campbell are, and that's mainly due to the fact that, for the modern fan, the social reasons for belonging to a group, simply for the sake of belonging, matter more than any sort of depth of personal interest.
This, however, is not true regarding Pulpfest, as far as I could tell. The sub-culture is still small enough so that it is almost entirely composed of actual fans. While I believe that is a good thing, it does raise questions concerning the future of the pulp community; but, that is something I will address in another post, perhaps.
That was the end of Friday for me; I intended to go back down for a panel that began at 11, but some family situations back home were brought to my attention, and I was needed on the phone well past 11. After reading for a bit I headed off to sleep. Saturday morning I woke up, headed down to the third floor, and scoured the Dealer's Room for a bit, speaking to Mr. Hulse a bit more and picking up a copy of his Blood'n'Thunder Guide to Collecting Pulps (which I asked him to sign, of course). After picking up a few additional items, I explored the area outside of the hotel for a few hours, this time to what seemed to be the more historic parts of the city, before heading back just in time to catch the two panels I wanted to see that evening. Both focused on the creations of Robert E. Howard; the first, featuring Mark Schultz and Jim and Ruth Keegan, covered the many artists and stylistic licenses that have been taken over the years in bringing Howard's Conan to life, while the second, with Rusty Burke, Don Herron, Brian Leno and John D. Squires, spoke more to the man behind the barbarian: Howard himself. Unfortunately, this second Howard panel was cut short; the first had gone on a bit longer than planned, so the second was trimmed down from an hour to 30 minutes to make room for the auction, scheduled at 9:30 PM. Why the auction was not simply pushed back, and the second Howard panel allowed its full hour is something I do not understand, and constitutes my one, real compliant concerning Pulpfest.
Now, I am not beyond admitting my newness to the pulp scene, and I did get the general impression that the auction was just as much a time-honored tradition as the idea of a pulp convention itself, so perhaps I am alone in my opinion that a panel outweighs an auction. In any event, I attended the auction for most of its duration; it was a learning experience in several ways. I had never been to an auction, or at least not one like this; other conventions have had fan-art auctions and the like, but never estate collections or anything spanning back several decades. Second, it introduced me to several pieces of pulp history I was not aware of, such as PEAPS (Pulp Era Amateur Press Society) publications and other works that I took note of as being valuable works for future reference. The highest bid was well over $1000 for a complete run of the PEAPS series of mailings, and the second highest was around $900 for a painted reproduction of the cover to the first issue of The Phantom Detective – to be honest, this surprised me, as all the talk I had heard about the auction beforehand led me to believe that these bid levels would be amongst the lowest of offers, when in all actuality it seemed that the average price paid seemed to be around $100 or so, if not usually lower.
I left the auction around midnight or so, as there was only one table of items or so left, and, from what I had seen, they didn't seem as interesting as the varied items that had come before; besides, the days without sleep earlier in the week were still taking their toll, so I headed off to my room, watching an episode of Mystery Science Theater 3000 I had on my computer before dozing off for the night.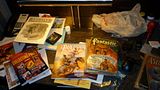 My hotel desk, Saturday night.
Sunday was the end of Pulpfest, but still rather busy for me, as I had a number of flights, layovers, and more flights and more layovers ahead of me for most of the day. Mr. Hulse had invited me to a breakfast he and a number of his friends were having Sunday morning, but my phone's alarm did not seem to rouse me in time, so I missed it – something I still regret, as I'm sure I would have heard a good many more stories of pulpish history. I did not wake until around 9:30 AM or so that morning; I packed up all of my belongings and purchases, and set them aside until I was ready to check out. I headed back down to the third floor for the Dealer's Room, to see what was to be had this final day, and also to apologize to Mr. Hulse for not making it to breakfast; he assured me there was no need to apologize, and actually inquired if I would be interested in writing a report of Pulpfest 2012 for the next issue of
Blood'n'Thunder
, from the perspective of a "newcomer."
I purchased a few more last minute items, mostly a few yellow-peril themed Argosys, and a black-and-white reprint of the first issue of Dr. Yen-Sin, before taking my leave of Pulpfest; I never did find the one issue I was looking for the most, the first installment of "The Future Eve" (Argosy All-Story Weekly – December 18, 1926). I gathered my things, and checked out at the front desk; as I still had about an hour until the shuttle from the airport arrived, I checked my luggage with the hotel and explored the nearby North Market a bit more, before returning, boarding the shuttle, and heading back to the airport and, after some time spent at both the Columbus and Atlanta, Georgia airports, home to the Old Dominion.
I enjoyed Pulpfest, both as a convention, and as a learning experience on a number of levels. In a follow-up post, I will include some thoughts that have come across my mind in my capacity as probably one of, if not the, youngest attendee at this year's gathering.